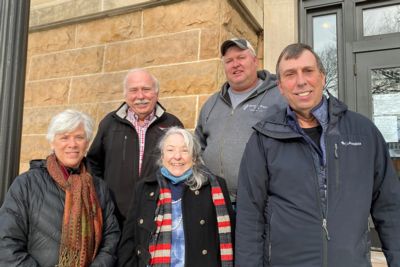 Back row left to right: Richard Hammond, Travis Mockler.
Front row left to right: Elizabeth Smith, Phyllis Packard, Micheal Manning.
Clay County Commissioners
211 W. Main St., Suite 200
Vermillion, SD 57069
Clay County Board of Commissioners Meeting Information
To obtain a time slot on the agenda, or for any information, please call (605) 677-7120.
The Clay County Board of Commissioners meet in regular session on the first, second, and last Tuesdays of each month. If you want to make an appointment to meet with them please do so by the Friday before the meeting.
Contact Information - Individual Commissioners

AGENDAS AND NOTICES:
January 11, 2022 Commission Meeting Agenda

PUBLIC NOTICE:
The County Commissioners may choose to attend the Courthouse, Jail, & Law Enforcement Facility Planning Committee meeting on January 11, 2022 at 6:30 p.m. This meeting will be via Zoom only. It will not be an in-person meeting.
Steven Waller is inviting you to a scheduled Zoom meeting.
Join Zoom Meeting
https://usd.zoom.us/j/97734956075?pwd=Sjd6NWNBdmkraVFrdnJrM0FsZTZVZz09
Meeting ID: 977 3495 6075
Passcode: 574048

APPROVED MINUTES:
2021 Minutes
2020 Minutes
2019 Minutes
2018 Minutes
2017 Minutes
2016 Minutes
2015 Minutes

YOUTUBE CHANNEL:
Visit Clay County's YouTube channel to view County Commission meetings. The recordings will be available to the public within a reasonable length of time following the meeting.
https://www.youtube.com/channel/UCn9FZ-dWsGPX23U4SxsLImQ
COUNTY BUDGET:
2022 Annual Budget
2021 Budget
Click here for the JOINT POWERS SOLID WASTE & RECYCLING ADVISORY BOARD application.