Clay County Highway Department is in charge of 200 miles of Hard Surface rds., 50 miles of Gravel rds. Also 75 Bridges (over 20 ft.) and 155 small structures (under 20 ft.)
---
---
Highway Superintendent: clayhwysupt@outlook.com
Rodney Polley
Secretary: clayhwybkkr@outlook.com
Laura Sundet
Highway Foreman: clayhwyfore@outlook.com
Larry McPherson
Mechanic:

Highway Workers: Rick Martz Tim Larson Brent Hays Tim Dooley Robert Proefrock Corey Doherty Kara Mulheron Kase King Tony Pick
Weed Supervisor: Dennis Ganschow
452nd Ave. will be closed starting Tuesday Sept. 28th for culvert replacement
The Hwy. Dept. did 30 miles of Micro-Surfacing in 2021
Detrimental Use of Right-of-Ways along County Highways is Illegal! Do Not Push Snow Across Highway or Pile Snow in Road Ditches. South Dakota Codified Law # 31-32-3.1 Class 1 Misdemeanor!!
Weight Limit changes for 2020, All hard surface roads will be at 6 ton axle weight, and all gravel roads will be at 7 tons axle weight.
Clay County Highway Map (Click here to view full size pdf.)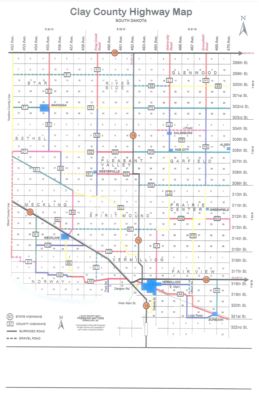 Application for Occupancy on the Right of Way of Clay County Highways

Application for Entrance from a Clay County Highway (Driveway Application)