Joint Jurisdiction Zoning
Currently, Clay County and the City of Vermillion have a Joint Jurisdiction Zoning agreement that covers approximately 16 square miles surrounding the City of Vermillion. This Jurisdiction has its own unique zoning ordinance, zoning map, and process for administration of land use regulations.
Please feel free to call, text, or e-mail me with any questions.
The areas shaded in purple is the Joint Jurisdiction Zoning Area.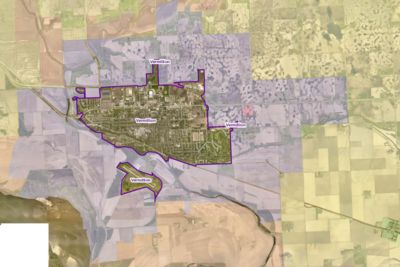 Drew Gunderson
Administrator
211 W Main St, Suite 203
Vermillion, SD 57069
Ph. (605) 677-7145
Drew.Gunderson@claycountysd.org
Planning Commission:
Cindy Aden (Chair), Marty Gilbertson, Joe Hubert, Travis Mockler (County Commission Representative), Jerry Prentice
---
The next Joint Jurisdiction Planning and Zoning meeting will be May 25th, 2022 at 5:30PM at City Hall. Agenda
Notice May 23, 2022. Joint Jurisdiction Planning Commission. A Conditional Use Application on land located approximately at 3344 318th St, Vermillion, SD 57069 for a Single-Family Dwelling. Memo Binder Map Binder
Notice May 31st, 2022. First reading for a request to re-zone land located at 1919 W Cherry St Vermillion, SD 57069 from A-1 Agricultural to LI-Light Industrial for a Grain Terminal/Grain Processing facility.
Forms
Joint Jurisdiction Building Permit Application
Ordinance
Joint Zoning Regulations for Clay County & City of Vermillion 2013
Maps